The Value of Creating a Spending Plan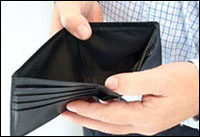 Do you ever find yourself saying – where did my money go?
If so, you may not have a budget in place. A budget does not mean you must shop at the thrift store or live in poverty, in fact, to plan where your money will be spent will keep you living within your means and bring you a sense of comfort. In this edition we will show you exactly how to do this by creating a Spending Plan.
Successful People Control their Finances and Account for their Money
They plan ahead for needed cash, and prepare for unexpected situations. In the past, you may have had difficulty controlling your finances because you lacked the tools, we would like to assist you by providing the proper tools and information you need. For your convenience, we have provided you with a very useful Spending Plan Worksheet. Click the link below and view and print your Spending Plan. Don't be intimidated, there are detailed instructions on how to fill this out. It is very simple, it won't take much of your time and is well worth the time you will spend filling it out.
Print and create your Spending Plan
Back