Are you UNEMPLOYED?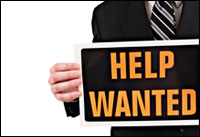 I lost my job – What do I do now?
Now that you are in a position to find a new job this could be a good time to make a career change. You might be interested in taking a career test to explore potential careers ideal for your personality type, background, and experience. You can take a free career assessment at www.RocketCareer.com.
YES, In this Economy There is Hope!
Don't get stuck in a rut. Being unemployed can be depressing. Before it gets to that point, be sure you are making steps towards locating a new job; this should help.
Maybe the last time you found yourself searching for a job you just walked into an office with your resume and a hopeful attitude, ready to work. These days the job search requires a bit more than that. It seems everyone is jumping on the internet band-wagon and that now increasingly more jobs must be applied online. While this may seem discouraging to some that aren't so internet-savvy, this can make job searching much easier. Instead of spending time and gas on the road, you can apply for countless jobs over the internet in a short period of time. "I Don't Have Internet Access!" No FEAR! Chances are your local library will have free internet access. While applying for jobs via internet you will need an email address. If you don't already have an email address you can set up your own free email address at yahoo.com, hotmail.com, gmail.com, or elsewhere!
Here are some helpful job-hunting websites:
www.Monster.com
www.HotjJobs.yahoo.com
www.CareerBuilder.com – This is a great one. After inputting your work experience and your fields of interest, you will then receive daily updates of leads to the latest posted jobs based on your experience and interests. HINT: To find these websites and more, simply type "find job" in your Google search bar.
KEY: Have a Strong Resume!
If you don't have the talent of creating a strong resume, there are websites out there that supply FREE templates to guide you. Visit: www.PongoResume.com to build a free resume and cover letter.
Make sure to bring a printed copy of your resume and your cover letter along with you to your interview, if your interview goes well you'll want them to have your contact information handy. Also, if your past experience allows for a portfolio this will give you an extra boost in your interview.
Back