Summer Fun that won't Break the Bank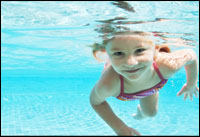 You don't have to spend money to enjoy your summer. Here are some enjoyable and inexpensive ideas you may want to incorporate into your summer vacation plan.
Tours and Museums
Depending on where you live, there is an abundance of ideas right in your backyard. In California, just a handful of free activities include tours to the Jelly Belly Factory, museums, Edwards Air Force Base, and a free tour of the Scharffen Berger Chocolate Factory. Research in areas near you and see what you can find.
Zumba
How to lose weight and have fun doing it? ZUMBA! This Latin-inspired, easy-to-follow, dance/exercise routine has become quite a hit. It appears zumba studios are springing up everywhere you turn. Disregard the monthly membership fee; you can still join in on the fun right in your very own living room. If you currently have cable, many cable companies give access to an array of exercise shows on demand including zumba. You can also find a video game for most consoles which is not free but will still be less than paying a monthly membership.
The Great Outdoors
Many of us have easy-access to public parks and places people travel from other cities and even across the world to see yet we do not take advantage of them. Being outdoors is both a fun and healthy activity. Being outside can benefit your health by reducing stress; boosting your energy, mental clarity and focus. Not to mention a vital source of vitamin D provided by the sun, and weight loss. Ride your bike, play a game of basketball or a walk around the neighborhood should do you some good. What beaches, national parks or even trails do you live by?
Picnic at the Park
On a lovely summer's day why eat at the table as you always do? Soak up the sun and make lunch interesting by having lunch at the park. Pack a sandwich, drinks, some tasty snacks and a blanket and treat yourself out to a picnic at the park. Listen to the birds, watch the kids play…I'm certain you won't regret it.
Become a Stargazer
Instead of watching TV tonight, step into your backyard and look up to admire the magnificent star-lit sky. You do not need a high-tech telescope to do this, the naked eye will do fine. If you are unfamiliar with this brilliant abyss, visit www.stardate.org where you can learn how to locate constellations, find out what time of the month certain planets and stars are most visible and even determine when you can view the next meteor shower. Escape the city lights, possibly drive to a park to get a really spectacular show of ubiquitous stars, meteors and even the Milky Way.
Google it
Are you fresh out of ideas? Google "fun free activities (your state or city)." I googled "fun free activities bay area" and found a handful of useful websites with an assortment of places to visit and things to do that I could simply pack a lunch and only have to worry about gas to pay for, which I know is not inexpensive these days but the activity itself would be no cost. Start googling and create some fun-filled memories this summer – without running up your credit card.
Back